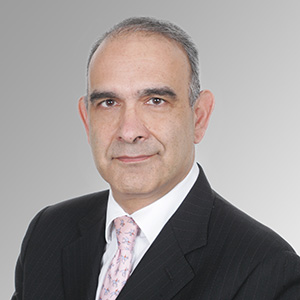 George Papadopoulos
Executive Director
George is Executive Director in X-PM Consulting.
With a career that spans more than 30 years in banking , finance and consulting he has held numerous executive positions in the financial sector.
George has a proven track record in managing investment portfolios, distribution channels, credit cycles (retail and SME) and developing and managing new businesses.
He has established and managed retail banking and wealth management businesses for multinational banks in Greece and Egypt; developed and launched retail banking, credit and investment products; managed, trained and coached front – line staff of wealth management distribution networks.
He has also provided consulting services for major Gulf Banks on business model design, advisory and operational processes for retail banking, wealth management and investment management.
He received a M.B.A .(Finance, Marketing majors) with distinction from the Schulich School of Business, York University in Toronto. He also obtained his B.A. in Commerce and Finance from the University of Toronto.
Experience
For the past 3 years he is engaged in the distressed debt management business with X-PM Consulting and has successfully restructured debts for a number of financially distressed businesses in the SME and corporate sectors and advised licensed debt servicing companies
Consulted on private banking, wealth management and investment management businesses in the Middle East.
Set up the wealth management business of Barclays Bank in Egypt.
Served as Deputy Head for the Retail and SME Distribution and Products Division of Société Générale in Greece.
Spent 2 years as CEO and 8 years as Chief Investment Officer for the investment management business of Citigroup in Greece.
Established and ran the first consumer finance business with Citibank - Greece.
Initiated his career in the SME business of Citibank - Greece specializing in leasing transactions.